The Greatest in Christian Music
0
If you want to hear a voice rich with God's love and a face beaming with God's beauty, take a listen to the link below-  Mahalia Jackson, singing "His Eye Is On The Sparrow".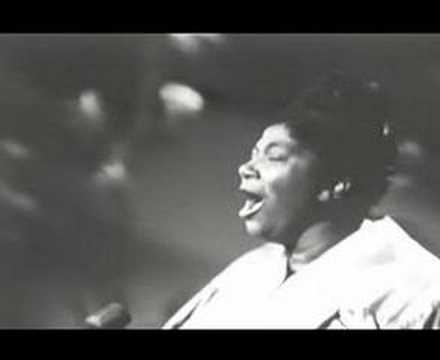 Mahalia Jackson, known as perhaps the pinnacle gospel singer of all time, gave us many great recordings of the gospel standards from the 1940's through the 1960's.  Her resonating voice and astounding vocal control are what set her apart from the other performers of the time.  She can take you from the rising passion of vocal praise to the whisper of emotional peace in just a heartbeat. 
"His Eye Is On the Sparrow" is a true gospel classic, written by Civilla D. Martin and Charles H. Gabriel in 1905.  A song written about hope  and faith in the midst of adversity, it has a clear biblical foundation taken from Matthew chapter 10:  "Are not two sparrows sold for a farthing? And one of them shall not fall on the ground without your Father.  But the very hairs of your head are all numbered. Fear ye not therefore, ye are of more value than many sparrows" (Matthew 10:29-31).  There are many other great recordings of this song available- Marvin Gaye and Lauren Hill both have notable versions.